Protocol on sickness and leave
Doctor Van Philips, AME medical examiner, is the only doctor associated with Doctor on Board. This means that no replacement is present in the event of illness or leave. Agreements that have already been made will be postponed to a moment when Van Philips will be present again.
In the event of an unforeseen long-term illness resulting in incapacity for work or premature death, Van Philips or its surviving relatives will share information on the website. In that case, the inspector must make a new appointment at another AME or Aero Medical Center. Or you should contact the Medical Assessor of ILenT about the progress of your test request.
Version 1-1-2019
MRM van Philips
Spaarne Gasthuis
location Hoofddorp BG in the back
Spaarnepoort 1
2134TM Hoofddorp
Via main entrance in the front:
You walk in a straight line through the front entrance of the hospital, past the reception on your left, through to the back entrance.

You take the stairs or elevator down.

You walk slightly to the right towards the parking places at the back.

U loopt rechts afgeslagen langs de achterkant bij de achteringang (onder een metalen buitentrap).

Doctor Van Philips calls you in.
Via de achteringang vanuit parkeerplaats:
U loopt naar de achteringang links van het ziekenhuis

(onder een metalen buitentrap).

Doctor Van Philips calls you in.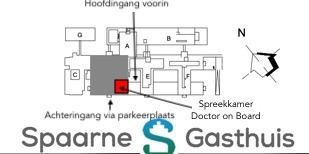 Above, the consultation room on the ground floor in the back of a corner room is marked in red. It is adjacent to the parking lot in the back.