Privacy statement and data processing protocol
Privacy
Practice states that all patient data is processed safely and that the medical examiner adheres to medical professional secrecy.
Data processing
All written forms and relevant medical documents, such as the medical certificate, are uploaded in the digital information system (Empic), to which only the medical examiner (AME) has access. The AME has obtained authority from the ILenT during certification, provided with login codes to be able to operate the electronic medical record. Medical statements and test reports must be signed by the applicant in writing, after which it is scanned. Any letters from medical specialists, medication overviews and the like are also scanned and added to the file. The applicant may keep his own documents, except for the statements. These are stored with the other documents in a file at the practice in a closed cupboard. In the health center there is a container from a certified data destruction company where medical records are collected and routinely collected. The contents of the container are destroyed according to current European standards. Although Doctor on Board shares this facility with the other medical care providers of the Marne Health Center, it is completely impossible to gain access to material that has already been discarded. The AME is the only user of the consultation room who has access to the room and the content of facilities in the cupboards.
No medical data or privacy sensitive notes remain in practice or anywhere.
The AME keeps a file of all inspections in which invoices are kept. This remains under own management. The applications are also recorded here alphabetically. Specially certified paper is also stored in practice for the issue of a medical certificate after an examination. All this information is also stored in lockable cupboards to which no one else has access than the medical examiner.
Doctor on Board, based in Marne Health Center
MRM van Philips, general practitioner and Aeromedical Examiner
Marne 130
1186PJ Amstelveen
Version 10-1-2020
MRM van Philips
Spaarne Gasthuis
location Hoofddorp BG in the back
Spaarnepoort 1
2134TM Hoofddorp
Via main entrance in the front:
You walk in a straight line through the front entrance of the hospital, past the reception on your left, through to the back entrance.

You take the stairs or elevator down.

You walk slightly to the right towards the parking places at the back.

U loopt rechts afgeslagen langs de achterkant bij de achteringang (onder een metalen buitentrap).

Doctor Van Philips calls you in.
Via de achteringang vanuit parkeerplaats:
U loopt naar de achteringang links van het ziekenhuis

(onder een metalen buitentrap).

Doctor Van Philips calls you in.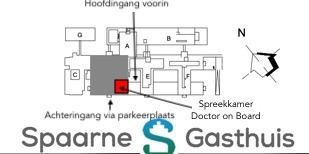 Above, the consultation room on the ground floor in the back of a corner room is marked in red. It is adjacent to the parking lot in the back.