FROM NOVEMBER THERE IS A NEW LOCATION IN SPAARNE GASTHUIS HOOFDDORP (READ THE DIRECTIONS BELOW). Class 1, 2 and LAPL exams can be requested via the registration form under 'Request inspection'. FROM JANUARY 2021 ALSO NOGEPA OFFSHORE EXAMS.

General Practitionar - Sonographer - Travelers medical doctor
Aero Medical Examiner - GP trainer
Flying is fun, flying a plane yourself is even more fun. For one pilot flying is a passion, for another a sport and another with pleasure flies professionally. Every pilot knows the feeling of adrenaline, thrills to fly an airplane independently and to experience new things as they progress. As an AME (Aero Medical Examiner) I do not fly myself (yet), but I have started flying lessons for RPL-MLA since summer 2017. My ambition is to obtain a PPL license afterwards.
I must admit that after a break of eighteen months I do not yet have my license. This is due to high work pressure, which means that I do not get around to my theory exams and my flying lessons. I keep hoping for a moment when I can continue my RPL training. Who knows, first half of 2021. My passion for aviation has certainly not diminished.
Welcome
Welcome to my website Doctor on Board (a phrase sometimes used during a medical emergency on board aircraft "is there a doctor on board?"). My name is Marcel van Philips and I am a general practitioner, ultrasound specialist and aero medical examiner. From 2017 I perform flight medical examinations, previously class 2 and LAPL for private pilots and recreational pilots. From 2020 I also intend to carry out class 1 repeat inspections for professional pilots. I am currently going through a new certification process that should lead to the approval of the independent execution of this class 1 and cabin crew inspections. Until the end of 2019 I was in my general practice in Alkmaar. I moved to Marne Health Center in Amstelveen on January 1, 2020, to be more central for my new target group.
In addition to flight medical examinations, there is also the possibility to make an appointment with me for customized preventive health checks. These do not belong to insured care, so you must pay for this yourself.
Sign up now class 1, cabin crew, class 2 or LAPL inspections. 
Method
The (candidate) pilot logs in via the application form on my website, chooses the type of inspection and the day and time that they want to be tested. I will respond within 1 working day after request to confirm the appointment or to look at another inspection moment. With the application you also agree to the terms of delivery. After completion of the medical examination there will be an advice based on EASA and Dutch Authority guidelines. If there is a special case or if limitations have to be imposed on the medical certificate, the Medical Assessor of the IL and T must do this. After the inspection, direct (digital) payment must be made by debit card or internet banking. I do not work with cash, please keep this in mind.
Tip
The inspection is a final station, ensure timely and complete provision of relevant medical information prior to the inspection. This speeds up the assessment and issue of the medical certificate. Show a valid passport or European ID, a driver's license does not count as identification. Just before the inspection, fresh urine must be collected (you will receive a urine cup before the inspection starts).
I have been a medical doctor since 1997. Six years later I obtained my GP certificate. I followed my academic and post-academic courses at the University of Leiden. From 2003-2010 I was an acting doctor in Brabant, Zeeland, South Holland and Utrecht. From 2010 to 2020 I had a solo GP practice in Alkmaar. I was a general practitioner-trainer at the AMC for 8 years.
My additional areas of expertise are: ultrasound, passenger medicine and aviation medicine, or aero medical examiner. 
In January 2020 I will continue my career as a freelancer and I will do both observations and flight medical examinations.
Click here to submit an application for an inspection. Complete the application form completely. I respond within 1 business day. My availability can be seen on my online agenda, from which an inspection can be requested. 
Click here for my more extensive curriculum vitae.
MRM van Philips
Spaarne Gasthuis
location Hoofddorp ground floor in the back
Spaarnepoort 1
2134TM Hoofddorp
Via main entrance in the front:
You walk in a straight line through the front entrance of the hospital, past the reception on your left, through to the back entrance.

You take the stairs or elevator down.

You walk slightly to the right towards the parking places at the back.

You turn right along the back at the back entrance (under a metal external staircase).

Doctor Van Philips calls you in.
Via the rear entrance from the parking lot:
You walk to the back entrance to the left of the hospital

(under an outside metal staircase).

Doctor Van Philips calls you in.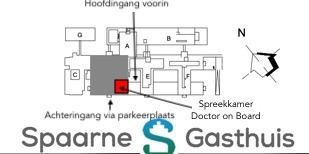 Above, the consultation room on the ground floor in the back of a corner room is marked in red. It is adjacent to the parking lot in the back.